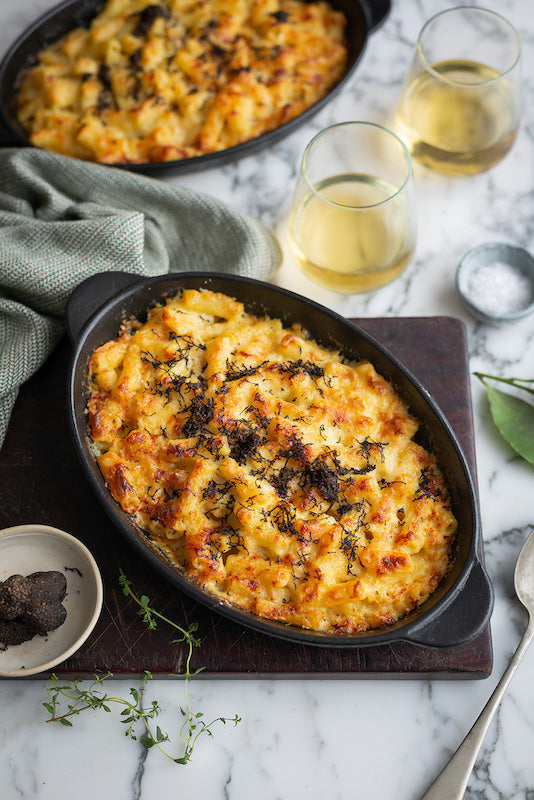 We came across this recipe at https://drizzleanddip.com and just had to share it with you. It may no longer be truffle season but just two tablespoons of our Stonebarn Truffle Mustard turns a normal Mac & Cheese into this delicious Truffle Mac & Cheese.
Prep time: 15-20 minutes
Cook time: 40 minutes
Total time: 55-60 minutes
Makes: 1 casserole dish of Truffle Mac & Cheese
Ingredients:
250g macaroni
400ml milk (infused with a few sprigs of thyme and a bay leaf)
200ml cream (infused with a few sprigs of thyme and a bay leaf)
100 Parmesan cheese (the older the better) freshly grated and divided
30g butter (use truffle butter to make it extra intense)
40g flour
Pinch of nutmeg
100g (+ extra for sprinkling) Gruyere or Dalewood Fromage Hugeonot cheese
2 Tbsp Stonebarn Truffle Mustard
2 free-range egg yolks
Black truffle (if available) – finely grated to finish.
Instructions:
Preheat the oven to 180C/350F and grease a casserole dish.
Pour milk into a small saucepan and heat gently with the thyme and bay leaf. Allow the flavour to infuse for a few minutes (make sure it does not boil).
Pour cream into another saucepan with thyme and bay leaf and heat. Once hot, add half the parmesan and stir to combine. Keep warm or take off the heat and allow it to infuse (you can reheat it just before pouring over the mac and cheese).
Make the roux for the bechamel in a third small saucepan by melting the butter. Add the flour and stir until you have a thick paste. Slowly add the warmed milk to the saucepan ladle by ladle at a time. Strain the thyme and bay leaves out if necessary. Stir or whisk vigorously until you have a smooth sauce and the flour has cooked out (i.e. it stops getting thicker). If necessary add a splash more milk.
Add the

 

Stonebarn Truffle Mustard

 

to the bechamel along with the remainder of the Parmesan and all the Gruyere or Hugeonot. Stir until this is melted through. Take the sauce off the heat and allow it to cool slightly.
Once cooled, add the egg yolks and whisk to incorporate.
Cook your pasta until al dente in a large pot of salted water, and drain.
In a large bowl add the drained pasta and the cheese sauce and mix to combine. Decant that into the casserole / oven-proof baking dish.
Sprinkle a little extra cheese over the top and then pour the Parmesan cream over that. Bake for 40 minutes until golden brown.
If available, grate fresh truffle over the Mac and cheese using a micro plane and serve.
Please visit https://stonebarnshopping.com/ to buy Stonebarn Truffle Mustard and any other Stonebarn Truffle Products.