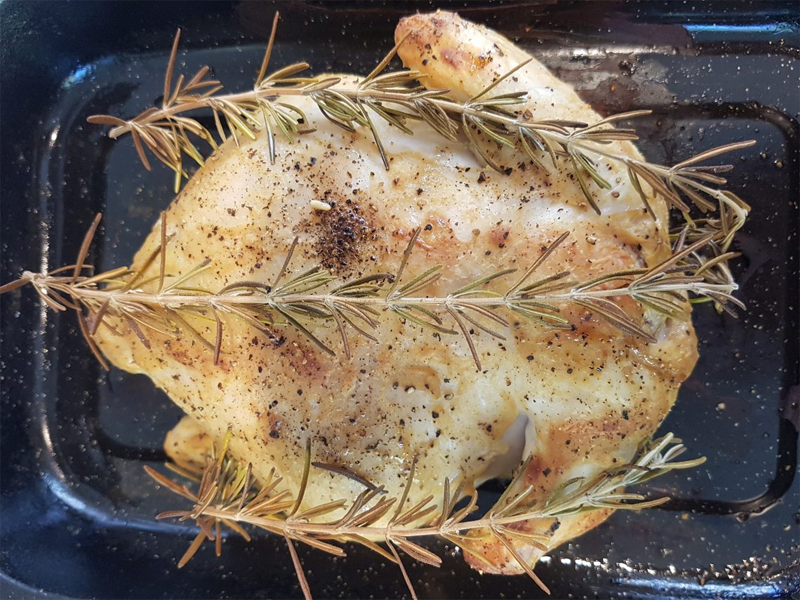 Roast chicken coated in Stonebarn Truffle Mustard makes for an easy-yet-elegant weeknight dinner, or a great alternative to Sunday roast. This meal is so easy to prepare because it's all cooked to delectable results in one pan. All you have to do is coat a chicken with Stonebarn Truffle Mustard add some thyme, salt and pepper, pop it in the oven and voila.
Prep time: 5 mins
Cook time: 1 hour
Total time: 1 hour 5 mins
Servings: 4 (based on a small chicken)
Nutritional Info per Serving: 15g Fat, 270 Calories, 25g Protein, 3g Carbs
Ingredients:
1 small chicken
1 jar of Stonebarn Truffle Mustard 130g
3 sprigs of thyme
Season with salt and pepper
Instructions:
Preheat the oven to 180 degrees celsius.
Place the chicken in a small roasting pan and coat generously with the truffle mustard, thyme, salt and pepper.
Put the chicken in the oven and cook for 40 minutes or until crispy and golden. Check the chicken regularly and baste it with the juices.
Order our Stonebarn Truffle Mustard online at https://stonebarnshopping.myshopify.com/collections/truffle-store/products/black-truffle-mustard-130g
For a limited period shipping is free on all orders over $23 Australia wide.
If you would like more information on our Stonebarn Truffle products, please don't hesitate to contact us.