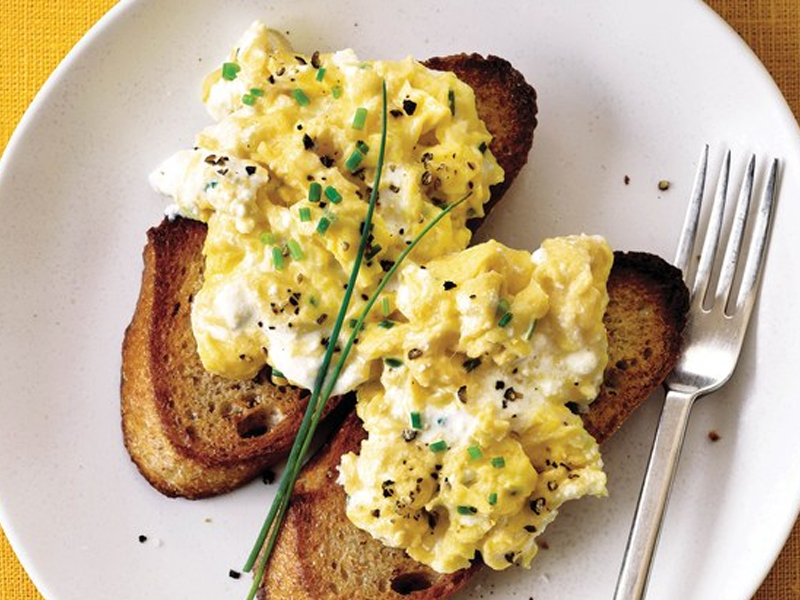 Enjoy your eggs with our Stonebarn Truffle Oil. Liven up your usual scrambled eggs with just a few drops of Stonebarn Truffle Oil to give a decadent addition to this breakfast classic.
Prep time: 5 mins
Cook time: 5 mins
Total time: 10 mins
Servings: 2
Nutritional Info per Serving: 25g Fat, 972kj Calories, 41g Protein, 110g Carbs
Ingredients:
4 eggs
2 tablespoons thickened cream
2 teaspoons chopped chives
6-8 drops truffle oil
salt and pepper
10g butter
4 slices toasted sourdough
watercress sprigs to serve
Method
Instructions:
In a medium bowl gently whisk together the eggs, cream, chives Stonebarn Truffle Oil, salt and pepper until fully combined.
Heat the butter over a medium heat in a medium-sized frying pan until it begins to foam.
Add the egg mixture and make sure it lines the base of the pan. Cook without stirring for 30 seconds, then gently stir the egg mixture for 2-3 minutes until it has almost set. Remove from heat.
Spoon the Stonebarn Truffled Scrambled Eggs over 2 pieces of toasted sourdough per person. If you're a big truffle-lover, drizzle a couple more drops of Stonebarn Truffle Oil over the dish.
Decorate the dish with a couple of sprigs of watercress or chives.
Order our Stonebarn Truffle Oil online at https://stonebarnshopping.myshopify.com/collections/truffle-store/products/black-truffle-oil-100-ml
For a limited period shipping is free on all orders over $23 Australia wide.
If you would like more information on our Stonebarn Truffle products, please don't hesitate to contact us.