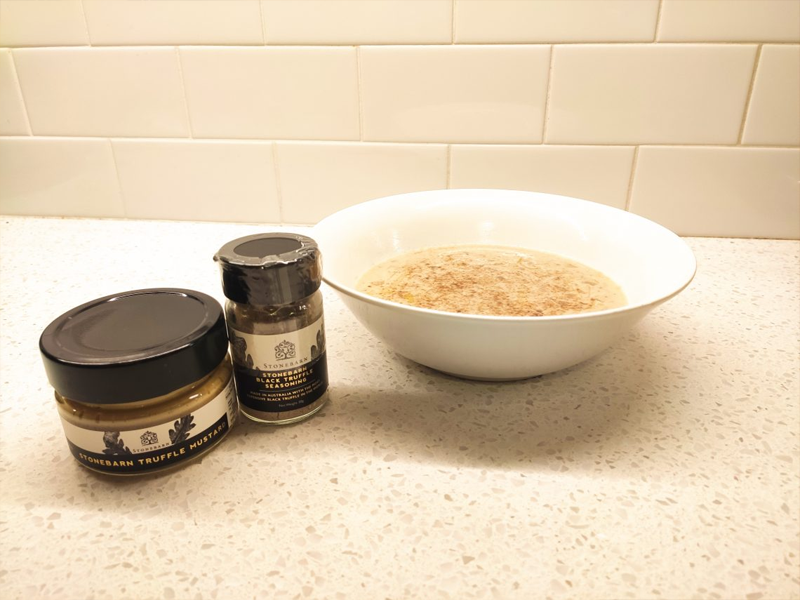 As the cooler weather approaches, try this Stonebarn Truffle Mustard & Leek Soup with Stonebarn Truffle Seasoning. This versatile recipe can also be used as a tasty sauce to accompany other dishes.
Prep Time: 5 minutes
Cook Time: 25 minutes
Total Time: 30 minutes
Servings: 4
Ingredients:
1 clove of garlic
2 onions
1 tablespoon butter
3½ cups water
¾ cup cream
1 stock cube
1 leek
1 jar Stonebarn Truffle Mustard
1 tablespoon cornstarch
1 teaspoon Stonebarn Truffle Seasoning
Instructions:
Finely peel and chop onions and garlic.
Melt the butter in a large saucepan and sauté onions and garlic for 3 mins.
Pour in the water and cooking cream and add stock cube. Bring to the boil and leave for a while.
Cut the leek in half and clean, then cut into thin slices.
Now add the leek and truffle mustard to the saucepan and stir. Let it simmer for approx. 4 mins on a low heat.
Add a teaspoon of truffle seasoning and truffle salt to your taste.
Serve the soup with slices of fresh bread and enjoy!
Please visit https://stonebarnshopping.myshopify.com/ to buy Stonebarn Truffle Mustard and Stonebarn Truffle Seasoning. (We are currently offering free shipping for purchases over $23 Australia wide.)