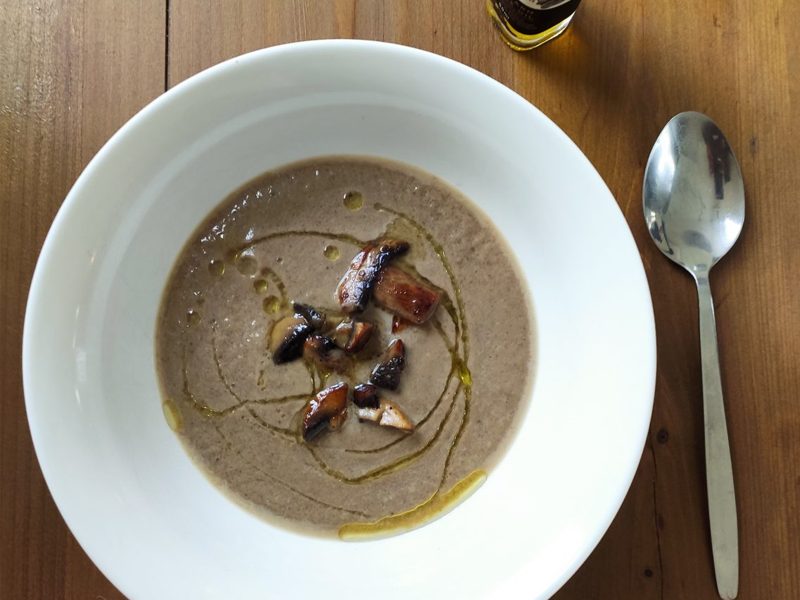 This simple, delicious recipe is a great winter warmer. The mix of mushroom, stock and cream creates a velvety soup without being too heavy. The addition of Stonebarn Truffle Oil to the white button mushrooms really amplifies the rich earthy flavour.
Prep Time: 10 minutes
Cook Time: 5 minutes
Total Time: 15 minutes 
Servings: 4 
Ingredients:
2 tablespoons unsalted butter
1 garlic clove, minced
1 onion, finely chopped
500g white button mushrooms, chopped
2 cups chicken stock
½ cup cream
¼ teaspoon fine sea salt, or to taste
¼ teaspoon ground black pepper, or to taste
1 tablespoon Stonebarn Truffle Oil, drizzled
Sliced sautéed mushrooms for garnish
Instructions:
Melt 2 tablespoons of butter in a saucepan over medium-high heat. Add the garlic and onion, cook for 1 minute, until they begin to soften. Add the mushrooms and cook for about 3 minutes, until tender and browned.
Add the stock and allow the soup to simmer well for 3 minutes. The stock will thicken slightly to be somewhat creamy.
Add the cream and continue to cook for 2 more minutes, then puree the mixture and add salt and pepper to taste. Once smooth, ladle into bowls and drizzle one tablespoon of Stonebarn Truffle Oil over the soup. Add the sliced sautéed mushrooms for garnish.
Please visit https://stonebarnshopping.myshopify.com/ to buy Stonebarn Truffle Oil. (We are currently offering free shipping for purchases over $23 Australia wide.)