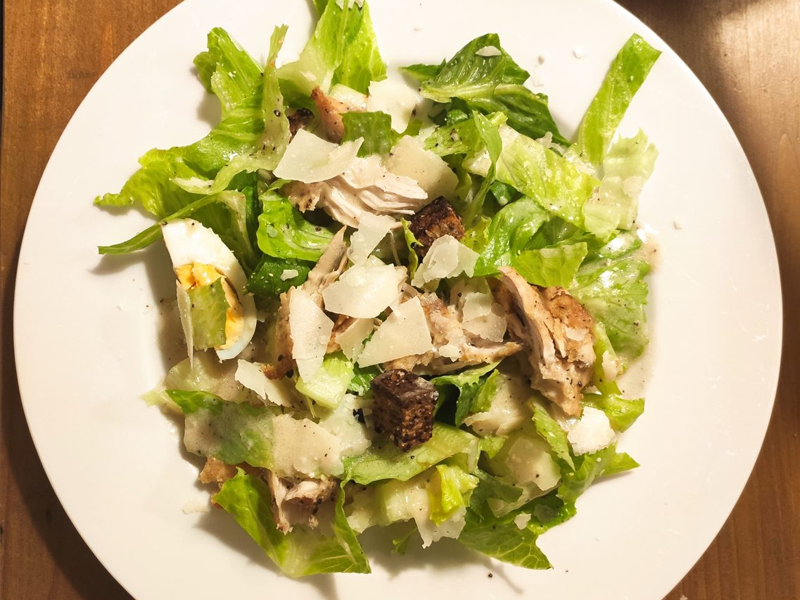 Follow this really simple recipe below to create your own truffle caesar salad. Our new Stonebarn Black Truffle Caesar Dressing takes all the hard work out of creating this classic salad and adds a delightful and delicious truffle taste. 
Truffle Caesar Salad Recipe 
Prep Time: 10 minutes
Cook Time: 10 minutes
Total Time: 20 minutes
Servings: 6
Ingredients:
1 large cos lettuce torn.
4 eggs hard-boiled and quartered.
12 short-cut bacon rashers diced (or ready diced bacon bits).
3/4 cup croutons.
3/4 cup parmesan cheese shaved.
Method:
Fry or grill bacon until crisp and golden, drain on absorbent paper towel and allow to cool.
Boil the eggs and set aside to cool.
Make the croutons by dicing bread and tossing in a frying pan with oil and seasoning until crisp and brown, set aside to cool.
In a large, wide serving bowl, layer each ingredient and drizzle over the Stonebarn Black Truffle Caesar Dressing.
Repeat layers until all ingredients are used, approximately 4-6 layers.
Grate or shave Stonebarn fresh black truffle over the top to enhance the truffle flavour.
Cover with plastic wrap and refrigerate until required.
ORDER BLACK TRUFFLE CAESAR DRESSING: $25
ORDER TWO BLACK TRUFFLE DRESSINGS: $40
Don't forget to order our Stonebarn fresh black Perigord truffle to really add to the truffle taste and finish off this dish.